How the U.S. almost became a nation of hippo ranchers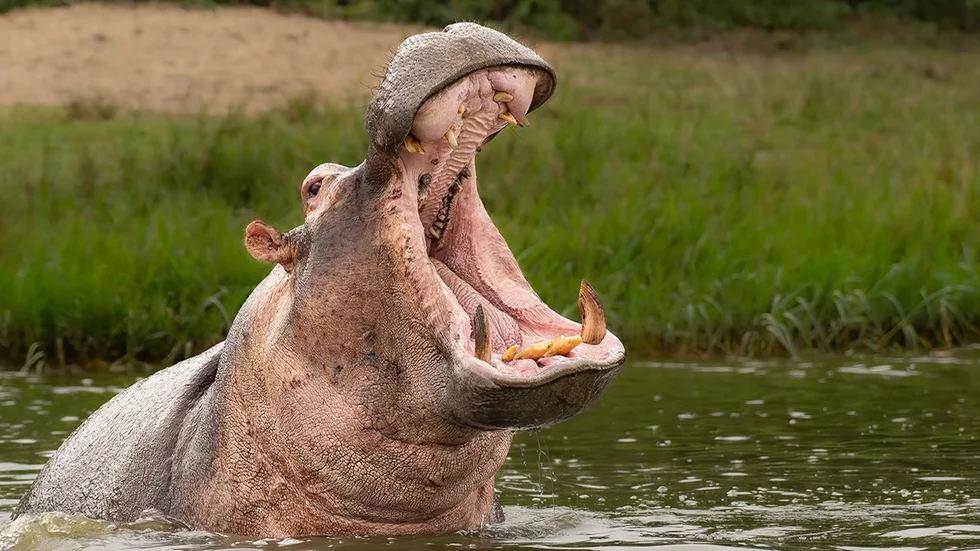 From Shoshi Parks for the Smithsonian magazine: "In 1884, the water hyacinth delighted audiences when it made its North American debut in New Orleans. But beneath its pretty exterior, the hyacinth hid its true nature as a malevolent marauder. The plant spread like a virus first in Louisiana and then in Florida. Within 20 years, it had overtaken waterways across the South. Meanwhile, a second crisis was brewing: around the turn of the 20th century, inexpensive meat was suddenly in short supply. Meatpackers blamed grain prices and cattle shortages, butchers blamed the meatpackers, and most everyone else blamed the Beef Trust, a nickname for the nation's largest meatpacking companies. The only one way to solve both problems at once, argued Louisiana Rep. Robert F. Broussard, was to embrace hippopotamus ranching."
Tár director Todd Field invented Big League Chew candy when he was teenager
From Lindsay Adler and Ben Cohen at the Wall Street Journal: "Before Todd Field made the movie Tár, he made Big League Chew. And that makes Field the only person at the Academy Awards on Sunday who can say that a movie that might win him an Oscar owes its existence to baseball's most beloved bubble gum. Field became the inspiration for and forgotten inventor of Big League Chew as a teenage bat boy in the 1970s for the minor-league Portland Mavericks. One summer, while trying to find an age-appropriate imitation of the chewing tobacco favored by the players and coaches, Field ripped up strings of licorice and stuffed them in a tobacco pouch to make it look like he was dipping."
An 82-year-old German man gets his 'very last warning' for selling marijuana
From Associated Press: "A German court has given an 82-year-old man a 'last warning' to avoid jail after he was found guilty of drug dealing, despite 24 previous convictions. The retired seaman, who said he wanted to improve his meagre €800 monthly pension by selling marijuana, was handed a suspended sentence by a court in the northern town of Aurich. German news agency dpa reported that prosecutors had asked the court to impose a prison term of 34 months in view of the man's lengthy criminal record and an existing suspended sentence. But judges said they would make an exception because of the man's particular circumstances and recent health problems."
A new look at the Great Quedlinburg Art Robbery case
From Frank Thadeusz for Der Spiegel: "Just a few weeks before the collapse of the Nazi regime in Germany, Joe Tom Meador sent several packages through military mail from Quedlinburg, located in Germany's Harz Mountains, to his hometown of Whitewright, Texas. Meador's fellow soldiers had previously seen the officer of the 87th Armored Field Artillery Battalion repeatedly emerging from a cave just outside the city gates, his jacket bulging. But apparently nobody suspected they were witnessing possibly the most brazen art theft of these unsettled times. Thanks to his military rank, First Lieutenant Meador was able to send his sensitive freight without being forced to answer any uncomfortable questions. And he gave his family in Texas strict instructions."
The mystery of the disappearing van Gogh
From the New York Times: "The painting 'Still Life, Vase with Daisies and Poppies,' was one of the last works Vincent van Gogh completed before his death in 1890. It was also one of the artist's only privately owned works. In 1911, the famous painting was sold to the Berlin art dealer Paul Cassirer. In 1962 it was loaned to Buffalo's Albright-Knox Art Gallery, where it remained on view for decades, before being bought by a private collector. It reemerged in 2014 at Sotheby's, selling for $61.8 million, and was briefly on display in Beijing. Now, its owner and whereabouts are unknown. Two men were linked to the purchase: an obscure middleman in Shanghai who paid Sotheby's bill through a Caribbean shell company, and the person he answered to — a reclusive billionaire in Hong Kong."
New text sheds light on the role played by minstrels in medieval society
From Sarah Shaffi for the Guardian: "From mocking kings and priests to encouraging audiences to get drunk, newly discovered texts at the National Library of Scotland have shed light on the role played by minstrels in medieval society. Containing the earliest recorded use of the term "red herring" in English, the texts are part of a booklet known as the Heege Manuscript. Throughout the middle ages, minstrels travelled between fairs, taverns and baronial halls to entertain people with songs and stories. Although fictional minstrels are common in medieval literature, references to real-life performers are rare, and the Heege Manuscript is among the first evidence of the life and work of a real minstrel."
The earth's core is younger than the surface
This is due to gravitational time dilation, a consequence of General Relativity (via Massimo on Twitter)