This is the hometown of San Francisco's worst drug dealers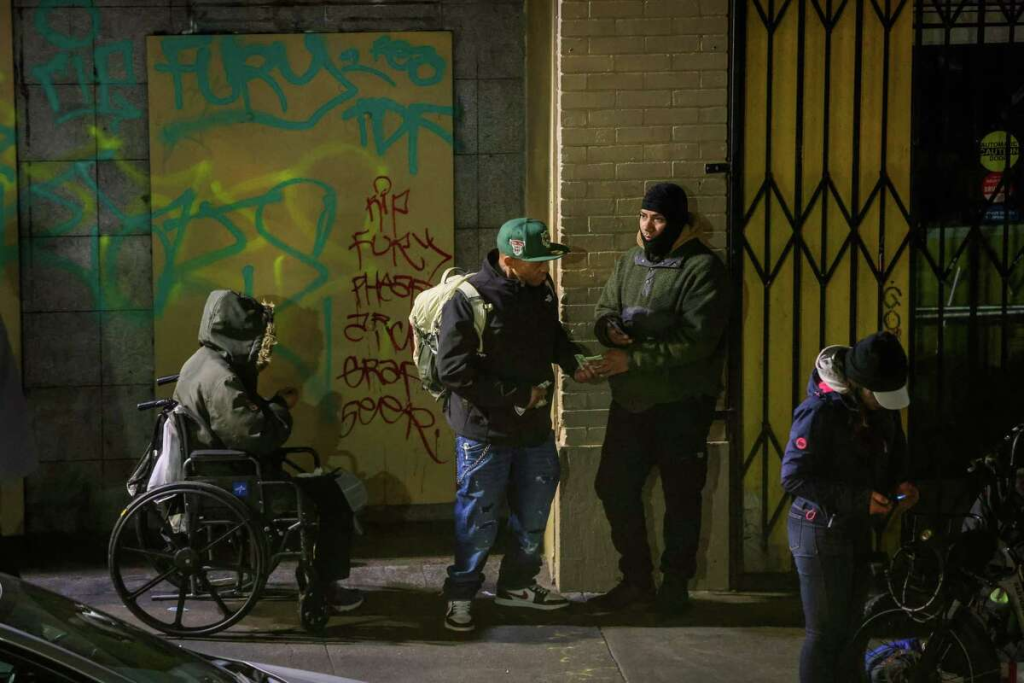 From Megan Cassidy and Gabrielle Lurie for the San Francisco Chronicle: "Thirty-five hundred miles southeast of San Francisco, a dirt road in Honduras shared by pickup trucks and oxcarts cuts through mostly abandoned farmland. On the outskirts of a small village, a jewel-toned mural appears like a mirage: the Bay Bridge, sparkling at night, stretching across a 10-foot-high wall. In a nearby town square, a skinny child in a Steph Curry T-shirt climbs a tree. A few blocks away, a three-wheeled mototaxi whizzes by, a San Francisco Giants sticker affixed to its bumper. More extravagant emblems of San Francisco appear unexpectedly and often, alongside crumbling adobe huts, stray roosters and heaps of singed garbage. Handsome new homes, some mansions by local standards, some mansions by any standard, rise behind customized iron gates emblazoned with San Francisco 49ers or Golden State Warriors logos."
How I learned to be blind
From Andrew Leland for the New Yorker: "I first noticed something wrong with my eyes in New Mexico. I was a freshman in high school. We hung out at Hank's house; he was our charismatic leader, and his mom was maximally permissive. One night, in Hank's room, our friend Chad sat on a beanbag chair, packing a pipe with weed. After dark, we hiked up the hill behind the house to get a view of the city. The moon was bright, but I found myself tripping on roots and stones and wandering off track. At one point, I walked right into a piñon tree with prickly branches. My friends laughed, and I played up my intoxication for effect. Eventually, though, my mother brought me to see an eye doctor. After a series of tests, he sat us down and said that I had retinitis pigmentosa, or R.P., a rare disease affecting about a hundred thousand people in the U.S."
How the Barbie doll was inspired by German adult erotica
From Maham Javaid for the Washington Post: "It was 1956, the co-founder of Mattel and her teenage daughter stood outside a shop in Switzerland, transfixed by the window display: An 11.5 inch dollwith a platinum ponytail, heavily lined eyes, and puckered lips, sitting on a rope swing. The doll, a German-made model marketed as Bild Lilli, was popular in that part of Europe at the time — generally considered a sex toy, or a gag gift for men. It's not clear that Ruth Handler — a business executive on vacation from her home in California — knew what Lilli was. It's not even clear among historians where the shop was: the popular Franz Carl Weber toy shop in Lucerne, a tobacco store or a bar. Regardless, Lilli did what she was designed for. She intrigued Handler, who took the doll back home and three years later introduced her Americanized doppelgänger: Barbie."
Giant sloth pendants indicate humans settled Americas earlier than thought
From Associated Press: "New research suggests humans lived in South America at the same time as now extinct giant sloths, bolstering evidence that people arrived in the Americas earlier than once thought. Scientists analyzed triangular and teardrop-shaped pendants made of bony material from the sloths. They concluded that the carved and polished shapes and drilled holes were the work of deliberate craftsmanship. Dating of the ornaments and sediment at the Brazil site where they were found points to an age of 25,000-27,000 years ago, the researchers reported. That's several thousand years before some earlier theories had suggested the first people arrived in the Americas, after migrating out from Africa and then Eurasia. "We now have good evidence – together with other sites from South and North America – that we have to rethink our ideas about the migration of humans to the Americas," said Mirian Liza Alves Forancelli Pacheco, study co-author and archaeologist at the Federal University of São Carlos in Brazil.
What you can do with those paralyzing climate emotions
From Jia Tolentino for the New Yorker: "It may be impossible to seriously consider the reality of climate change for longer than ninety seconds without feeling depressed, angry, guilty, grief-stricken, or simply insane. The earth has warmed about 2.3 degrees Fahrenheit since pre-industrial times, and the damage is irreparable. Vast zones of hypoxic water expand in the oceans; wild bees, fireflies, and birds are disappearing; one study suggests that around half of trees currently alive will be dead in forty years. A year ago, the pavement melted in Delhi. The year before that brought end-of-days flooding to China and Western Europe; in western North America, one of the most extreme heat waves ever recorded; and an apocalyptic ice storm in the central United States. Thousands of people died in these disasters.
Gadgets and gizmos that inspired pioneering economist Adam Smith
From Virginia Postrel for Reason magazine: "Pocket gadgets were all the rage in Adam Smith's day. Their popularity inspired one of the most paradoxical, charming, and insightful passages in his work. But timepieces were hardly the only gizmos stuffing 18th century pockets, especially among the well-to-do. At a coffeehouse, a gentleman might pull out a silver nutmeg grater to add spice to his drink or a pocket globe to make a geographical point. The scientifically inclined might carry a simple microscope, known as a flea glass, to examine flowers and insects while strolling through gardens or fields. He could gaze through a pocket telescope and then, with a few twists, convert it into a mini-microscope. He could improve his observations with a pocket tripod or camera obscura and could pencil notes in a pocket diary or on an erasable sheet of ivory. (Thomas Jefferson carried ivory pocket notebooks.)"
AI image generators are so smart
From the Internet Hall of Fame on Twitter