Next up for CRISPR: Gene editing for the masses?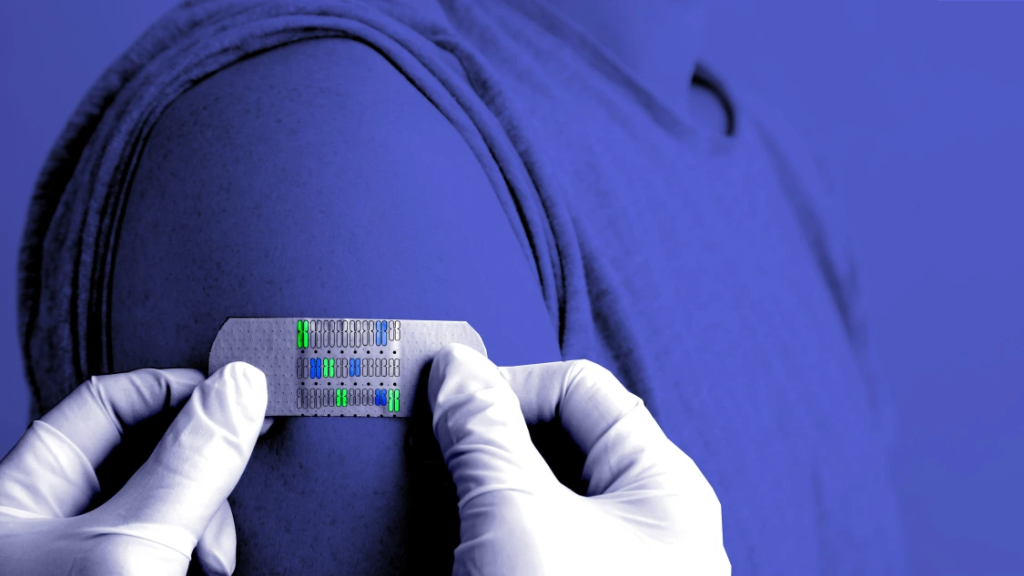 In the early days, CRISPR gene-editing technology was used to simply make cuts in DNA. Today, it's being tested as a way to change existing genetic code, even by inserting all-new chunks of DNA or possibly entire genes into someone's genome. These new techniques mean CRISPR could potentially help treat many more conditions—not all of them genetic. In July 2022, for example, Verve Therapeutics launched a trial of a CRISPR-based therapy that alters genetic code to permanently lower cholesterol levels. The first recipient—a volunteer in New Zealand—has an inherited risk for high cholesterol and already has heart disease. But Kiran Musunuru, cofounder and senior scientific advisor at Verve, thinks that the approach could help almost anyone. The treatment works by permanently switching off a gene that codes for a protein called PCSK9, which seems to play a role in maintaining cholesterol levels in the blood. While newer innovations are still being explored in lab dishes and research animals, CRISPR treatments have already entered human trials.
The man who invented the glass skyscraper
If you've always wondered how cities around the world came to have downtown cityscapes that consist mostly of glass and steel skyscrapers that look like vertical ice-cube trays, the man who pioneered this style is German architect Ludwig Mies van der Rohe. Sheehan Quirke, who runs a Twitter account called The Cultural Tutor, has more: "Ludwig Mies van der Rohe, born on March 27th 1886 in Germany, was a talented architect who was influenced by his father's craft and the Medieval architecture of Aachen. in 1908 he went to Berlin to join the workshop of Peter Behrens. Two other important Modernist architects, Walter Gropius and Le Corbusier, also worked for Behrens around the same time. Van der Rohe proposed a model for a skyscraper in Berlin that was never built, but his ideas of a steel frame and glass curtain wall were revolutionary. He was a key figure in the Modernist movement in Europe and the Bauhaus, and when he emigrated to America in 1938 he changed the look of skyscrapers forever."
In the name of science: Investigating how Oreo cookies separate
News from MIT: "When you twist open an Oreo cookie to get to the creamy center, you're mimicking a standard test in rheology — the study of how a non-Newtonian material flows when twisted, pressed, or otherwise stressed. MIT engineers have now subjected the sandwich cookie to rigorous materials tests to get to the center of a tantalizing question: Why does the cookie's cream stick to just one wafer when twisted apart? "There's the fascinating problem of trying to get the cream to distribute evenly between the two wafers, which turns out to be really hard," says Max Fan, an undergraduate in MIT's Department of Mechanical Engineering. In pursuit of an answer, the team subjected cookies to standard rheology tests in the lab and found that no matter the flavor or amount of stuffing, the cream at the center of an Oreo almost always sticks to one wafer when twisted open. Only for older boxes of cookies does the cream sometimes separate more evenly."
Monastery adopts adorable stray dog who now lives like a friar
A Franciscan Monastery in Bolivia has welcomed a four-legged friar. The monastery, fittingly named after St. Francis of Assisi, found Carmelo, an abandoned stray schnauzer. The pup was lovingly adopted by the Franciscan fraternity, and he eagerly accepted his new role as the monastery's mascot. To properly usher in their recent recruit, the brothers christened him with his own holy name: Friar Bigotón, which comically translates to "Brother Mustache." He was also given his own tiny habit, which he proudly wears as he explores his new dwellings and, of course, receives ample attention from his compassionate rescuers. "His life is all about playing and running," friar Jorge Fernandez told The Dodo. "Here, all of the brothers love him very much. He is a creature of God." Friar Bigotón's new life isn't all fun and games, though. As evident in a series of photos posted to Facebook, he takes his religious duties—like "preaching to the fish," patrolling the grounds, and keeping his robe neat and tidy—very seriously.
Edward Dando became famous in the 1800s for stealing food
From his entry in Wikipedia: "Edward Dando was a thief who came to public notice in Britain because of his unusual habit of overeating at food stalls and inns, and then revealing that he had no money to pay. Although the fare he consumed was varied, he was particularly fond of oysters, once having eaten 25 dozen (300) of them with a loaf and a half of bread with butter. Dando began his thefts in about 1826 and was arrested at least as early as 1828. He would often leave a house of correction and go on an eating spree the same day, being arrested straight away and appearing in court within a few days, only to be put back in prison. On at least one occasion he was placed in solitary confinement after he stole the rations of his fellow prisoners. His death was widely and sympathetically reported in both the London daily press and in local newspapers. Author Charles Dickens even wrote about Dando and compared him to Alexander the Great."
The mystery of the Margate Shell Grotto
From History Daily: "In 1835 a labourer was digging a field just outside the English seaside town of Margate. His work was interrupted when he thrust his spade in to the soil and it vanished into the ground. The master of the nearby Dane House School, James Newlove, was made aware of this strange event. He volunteered his young son, Joshua, for the task of being lowered, candle in hand, in to the void via a length of rope When Joshua was pulled back to the surface his wide-eyed tale astonished everyone. He told of a magical temple adorned in shells, hundreds, thousands… millions of them. All told, 4.6 million. When the hole was widened enough for adults to enter they too witnessed the wondrous contents of the winding subterranean passageway, complete with an altar chamber and rotunda. Newlove senior, a canny schoolmaster if ever there was one, was first to consider the financial benefits such a discovery might reap. He hurriedly purchased the land above the chamber and began to adapt it so that visitors might enter – for a fee of course."
Arthur C. Clarke predicts the future of computers in 1974