An 8-year-old boy is at the heart of a fight over Tibetan Buddhism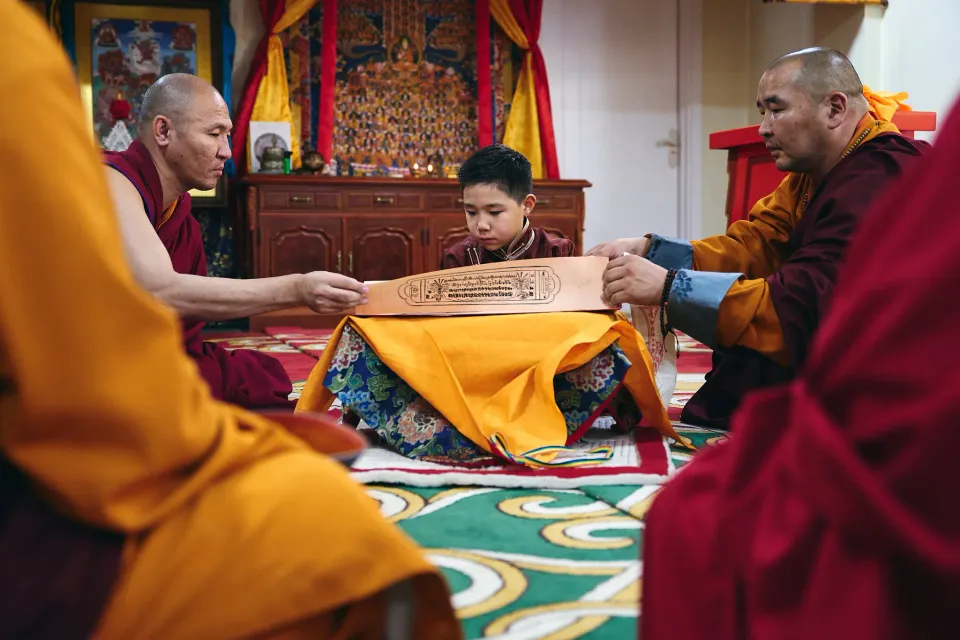 From David Pierson at the New York Times: "The boy had seemed destined for a life of affluence and earthly pursuits. Born into the family behind a major mining conglomerate in Mongolia, he might have been picked to someday lead the company from its steel-and-glass headquarters in the country's capital. Instead, the 8-year-old is now at the heart of a struggle between the Dalai Lama and the Chinese Communist Party. On a visit to a vast monastery in the capital city of Ulaanbaatar, known for a towering Buddha statue gilded in gold, his father brought him and his twin brother into a room where they were given a secret test. The children were shown a table strewn with religious objects. Some of them refused to leave their parents' sides. This boy, A. Altannar, was different. He picked out a set of prayer beads and put it around his neck. He rang a bell used for meditation. He walked over to a monk in the room."
Researchers are hoping AI can help them design new psychedelics for therapeutic use
From Natasha Boyd for Pioneer Works: "People have been doing psychedelics for at least three thousand years, and yet our understanding of how these substances interact with our nervous systems is still in its infancy. Until recently, illegality hampered clinical research. Even now, as some psychedelics pass the threshold to decriminalization, large-scale trials remain few and far between—a problem for research into such a variable experience. The temperamental nature of psychedelics is essential to their appeal. Drug nerds love to share their unique experiences with each other. To the researcher, this same variability represents a bottleneck. Last year, however, a group of interdisciplinary researchers announced a simple but powerful work-around: using AI and brain imaging, they found a way to draw directly from the experiences of some of the internet's psychonauts—potentially paving the way for a new class of hybrid drugs."
At the Met she was a valued trustee but at home she had dozens of looted antiquities
From Graham Bowley for the New York Times: "Shelby White was a Met trustee, and was on the committee that advises the museum on what pieces to acquire. She and her husband Leon Levy gave the Met $20 million, and in 2007, the museum opened a monumental new gallery for Greek and Roman art: the Leon Levy and Shelby White Court. But recently the couple's conduct as collectors has drawn heightened scrutiny. Investigators from the Manhattan District Attorney's office have carted away 71 looted artifacts from White's home in the past two years. In June 2021 they showed up with a search warrant at her spacious Sutton Place apartment in Manhattan. The rooms inside were filled with antiquities, some of which had been purchased from dealers who would later be accused of trafficking in illicit artifacts. "It is literally a mseum," said Matthew Bogdanos, head of the district attorney's Antiquities Trafficking Unit."
Editor's note: If you like this newsletter, I'd be honoured if you would help me by contributing whatever you can via my Patreon. Thanks!
The girl who spent 738 days living in a giant redwood tree named Luna
From Elana Klein for Insider: "At the age of 23, environmental activist Julia Butterfly Hill lived in a tree, which was dubbed "Luna," in California's Redwood Forest in an act of civil disobedience. Her tree sit lasted from December 10, 1997, to December 23, 1999. Hill decided to participate in the tree sit when the Pacific Lumber Company announced a new clear-cutting initiative that would greatly reduce the number of trees in the iconic forest. One summer night in 1996, Hill was driving a car that was hit from behind by a drunk driver. As a result of the near-fatal accident, she had difficulty speaking and walking for almost a full year. During her recovery process, Hill reevaluated her priorities and took an interest in environmental preservation. She learned of an opportunity to participate in a tree sit, on a 1,000-year-old tree named "Luna," along with two other people. The initiative was sponsored by Earth First!, an organization that shared her passion for preserving redwoods."
Comedian Redd Foxx and Malcolm X were best friends in the 1940s
From Old School Cool on Reddit: "In the early 1940s, before converting to The Nation of Islam, Malcolm Little — then known as "Detroit Red" — became close friends with Jon Sanford, aka Redd Foxx, then known as "Chicago Red". They both worked at Jimmy's Chicken Shack in Harlem and hustled the street together. Redd confided to Anthony Major, who ran Redd Foxx Productions in the mid-1980s, that Malcolm was the only person he really trusted. They used to rob places together and sleep on rooftops together. Redd said he knew Malcolm has his back and trusted him. If Redd was in a fight, he could turn his back and know Malcolm was gonna be in the other side, fighting with him. For a while they were partners in crime stealing suits and reselling them, dealing marijuana and other petty crimes. They had a falling out as Malcolm's criminal activities increased resulting in his 6 year incarceration which led to his rebirth as Malcolm X."
Her photo made her a national icon in Iran, but also an exile
From Suzanne Koelbl for Der Spiegel: "The seventh night after her mother was killed by Iranian security forces, university student Roya Piraei posted a photo. In it, she is standing at her mother's grave dressed in black with no headscarf, her hair closely cropped. Staring directly into the camera, she is holding a bushel of hair in her left hand. The photo was taken in fall 2022 and it immediately went viral. Women around the world, inspired by Piraei, then 24, cut off their hair to show solidarity with the protests in Iran. It is a photo that continues to inspire artists and authors today. Almost one year later, Roya Piraei is sitting in the yard of a London suburban home at a table covered with an Oriental-patterned tablecloth. She is a delicate woman with light-colored, freckled skin, her dark hair now grown back, falling gently to her chin."
Hyperion, the tallest tree in the world, is the size of a 35-story building